For those of you familiar with my blog, I'm trying something a little different with how I create my posts. Instead of featuring a single item each day and explaining why I think it is so great, I am going to choose a broader topic (such as wire jewelry) and provide you with some wonderful examples of what you can do with that, as well as some tutorial sites where you can learn to do those things as well! Since these posts will be longer, I will be doing them each week instead of every day. As far as how I will deal with my steampunk topics, I'm not entirely sure yet… Let me know if you have any ideas! And I hope you enjoy my new posts!
Wire is a very diverse medium. You can use it to wrap pieces together, create shapes and designs, or weave together beautiful handmade chains. Let's start with wrapping and keeping things together in a beautiful way.
I often see this done with stones. It's a great way of turning an object into a pendant without dealing with all that drilling or gluing that can add a mess to your piece. Here's it done into a bracelet, which is especially neat.
Here it has been used to hold the hole center piece together as well as provide a loop for a chain.
Now let's look at various designs people have made with their wire.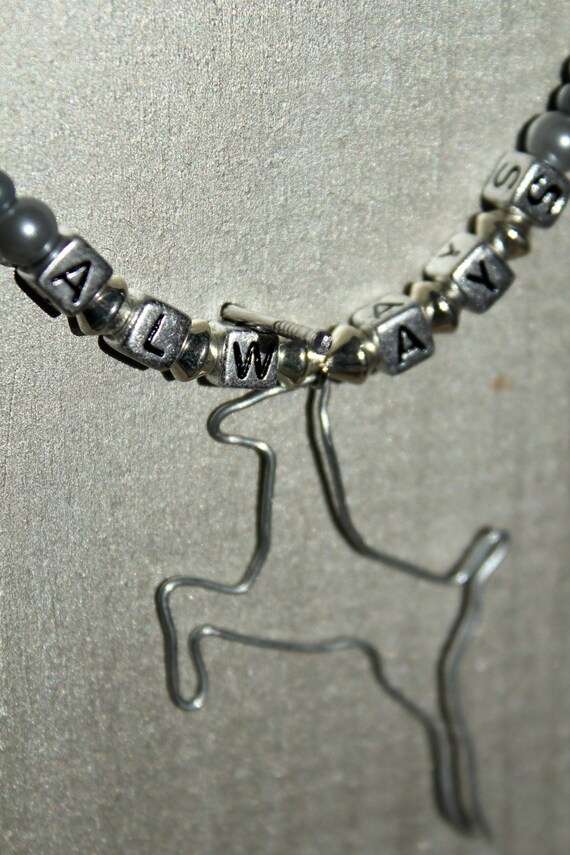 This is a piece that I made. I utilized my wire in order to create the shape of a doe. I know for me, creating an animal shape was a little bit intimidating, but there are other great more simplistic ideas as well.
Here is a beautiful and simple Christmas tree. But there are also just some fun designs you can do and adding just a couple beads will create a beautiful pair of earrings or a pendant.
Or something a bit more complex…
Or the every so popular wire tree pendant
This is a really cool one in my opinion.
I have also discovered that you can make chains out of wire. You can crochet thing wire or weave it together to make such things as a choker or bracelet!
Feeling inspired now?? Some of these images link to tutorials on that specific project or technique. Or, here are some other helpful sites that will show you the kinds of work that you can do with some simple wires or some tips for those of you that perhaps have an idea of what you're doing.
http://www.making-beaded-jewelry.com/making-wire-jewelry.html
http://www.etsy.com/listing/104297273/wire-jewelry-pdf-tutorial-how-to-make?ref=sr_gallery_40&ga_search_query=wire+jewelry&ga_view_type=gallery&ga_ship_to=US&ga_page=2&ga_search_type=all
http://www.jewelrymakingdaily.com/blogs/daily/archive/2010/10/04/make-great-wire-jewelry-4-essential-finishing-tips.aspx
http://www.jewelrymakingdaily.com/Wire-Jewelry-Making-Techniques/?a=je120323
http://www.craftstylish.com/item/604/how-to-make-wire-crochet-jewelry/page/all